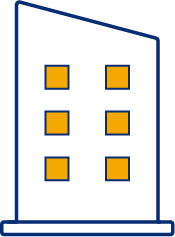 Inquire today to learn if you qualify to have the opportunity to own a
Owning a GoldenTrust Insurance agency provides you with an opportunity to expand your career experience by exploring entrepreneurship. Joining the GoldenTrust Insurance franchise system will expedite your road to success by bridging you with the leading insurance carriers who are associated with, and trust in GoldenTrust Insurance!
Our concept will provide you with the key to expand your growth in the industry, as well as to diversify your amount of revenue streams! We have built our foundation strong and have a successful track record in order to provide you with the mentorship, knowledge, support, and training that will enable you to succeed and surpass your expectations!
By qualifying for a GoldenTrust Insurance franchise, you will be offered the opportunity to own and operate your own GoldenTrust Insurance agency within an approved protected territory of your choice.
Our GoldenTrust Insurance franchise system offers you a diverse portfolio of numerous revenue streams that will allow you to expand alongside one of America's fastest growing insurance companies, as recognized by Inc. 5000.
GoldenTrust Insurance has developed state-of-the-art, proprietary technology that will enable you to have a competitive edge among your competitors.
GoldenTrust Insurance has established a comprehensive and hands-on training program that will provide you with the mentorship and business alliance with trusted and reputable entrepreneur leaders in the industry.
We provide you with the skills, expertise, and knowledge that we have gained throughout our years of experience in order for you to succeed! Our Initial Training program offers hours of classroom and hands-on training at our headquarters location, GoldenTrust Insurance offers a multi-phase training program that will include ongoing support and mentorship at your established agency(s).